"When you play the game of thrones you win or you die. There is no middle ground." -Cersei Lannister
My best friend loves everything about Game Of Thrones. The show, the books, the story, the characters everything. So of course, she was easily able to convince me to pick it up. The first of the Song Of Ice And Fire books, A Game Of Thrones, officially took me 2 months to finish, and while I enjoyed it, I'm considering just watching the show instead.
Summary: Summarizing this book is difficult with it being a behemoth of a book, I ended up finding a good summary on shmoop.com that easily encompasses the eight-point perspective and three separate story lines instead of writing one myself.
"The longest part of this book tells how the noble Stark family deals with conspiracy and court politics in the Seven Kingdoms of Westeros, with particular emphasis on Eddard Stark, the father and leader of the noble family. A second story follows the exiled princess Daenerys, one of the last descendants from the previous royal family, as she grows up on another continent. A third story follows Jon Snow, the illegitimate son of Eddard Stark, as he grows up in the north of Westeros. He is in the special military order called the Night's Watch, which is dedicated to protecting the civilized Seven Kingdoms from the dangers beyond the Wall."
As the story goes on, secrets from the depths of each family are revealed, changing the course of the book in many instances. With the depth and imagery used in this book, everything is as vivid as if someone was telling you the story while you revisit the locations.
Rating: 4 Stars.
Why?: So I've never really been one to like extremely long books, or to like fantasy. How I ended up enjoying this book was an extremely rare instance. I instantly loved certain characters and despised others, and sometimes my opinions of them changed throughout as they developed. The depth and background given to each and every character were impressive and it made you feel as if you actually knew them and were learning everything about them, their secrets, their fears, along with their favorite hobbies. Every scene and setting are described in intense detail, something it's hard not to admire. There were so many twists and turns and it was always intense. I learned that they weren't kidding about all hype this series has got over the years. The only thing keeping me away from that 5 stars was the length because I'm still a little disappointed in myself that it took me months to read. MONTHS. It was just so dense that I had to read a lot at a time to really enjoy and understand what was going on, which sometimes is difficult in such a fast-paced world.
Reaction In A Gif: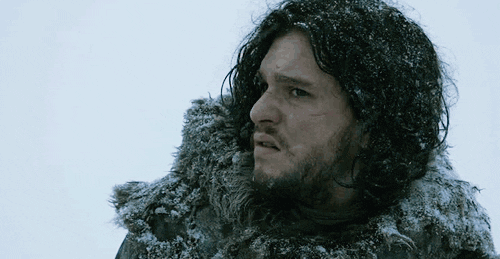 If you read or watch Game Of Thrones, let me know what you think? I think I'm going to start the next book once I get through my current reads because somehow the amount of books I'm reading at once has gotten a bit out of hand. Hopefully, later I will get around to working on some more posts and making some minor changes to my blog in general. Any feedback is welcome!
-Lily